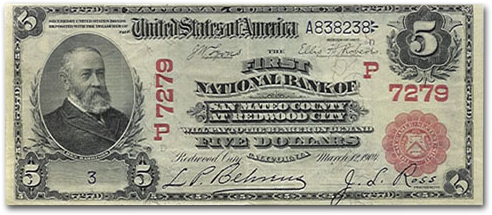 LATE SUMMER

UPDATE
As summer winds down, COVID-19 remains a widespread threat, particularly in the South, as a result of the Delta variant. No vaccine can prevent 100% of infections, but all three vaccines in use in the U.S. can keep you out of the hospital and out of the morgue. All I can say is be cautious and get vaccinated!
This update features a wide array of new National Bank Notes from around the country, including: a very scarce 1902 $5 from Berkeley, CA; a rare, high grade, totally original 1902 issue from the National Bank and Trust Co. of Pasadena, CA, Ch. #(P)11425; a genuinely rare 1929 issue from Ventura, CA Ch. #7210; a tough 1929 example from Monticello, GA; a rare 1902 McLeansboro, IL issue; an elusive small size $20 from Minooka, IL; a nicely-named 1902 note from Oblong, IL; a very scarce 1929 note from the Bright National Bank of Flora, IN; an unusual Brown Back from Bath, ME; a great looking 1875 $5 from Baltimore; a nice 1929 example from Clear Spring, MD; an 1882 Date Back FIFTY from Ionia, MI; a rare 1902 issue from Seymour, MO; a very tough McCook, NE 1902 note; A lower grade but problem-free Lazy Deuce from New York; a rare large size Ticonderoga, NY note; a scarce and uniquely-named Date Back from Washington C.H. (Court House), OH; a rare Oklahoma state-issue Brown Back; an elusive 1902 example from Eugene, OR; a very scarce 1929 Genesee, PA note; a large size Red Lion, PA issue; two tough Rhode Island notes, a small size Ashaway and a large size Woonsocket; a 1929 example from Redfield, SD; a high grade Tyndall, SD small size note; a scarce Brown Back $5 from the City National Bank of Norfolk, VA; a damaged but very scarce 1929 Longview, WA note; and a really nice serial #1 1902 note from Manitowoc, WI.
I wish you and your family good health, good times, and happiness! Be well, and be safe.
---- Bill
Please feel free to make an offer on any item, or suggest a payment plan. If you want a note, I'll do my best to make it happen.
I'm continuing to add notes to inventory, so please send your want list or check with me if you don't see what you're looking for. I am always interested in buying National Currency! Please contact me if you have National Bank Notes for sale. I'm also an active buyer of large size type.
If a note's entire description is in BOLD, just click anywhere to see a scan of the face. "FACE" and "BACK" notations are, of course, self explanatory. Unfortunately, I do not always have time to scan every note listed on the site. I gladly will e-mail additional scans of any note upon request.
Last Updated: September 7, 2021

William Litt
P.O. Box 221148
Carmel, CA 93922
650-430-2024
BillLitt@aol.com