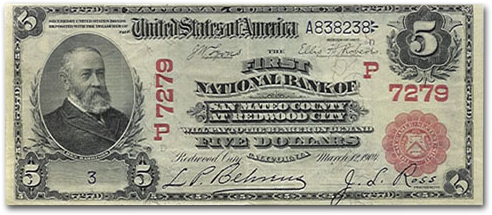 SUMMER UPDATE
Welcome to my summer website update! It's a hot summer everywhere except here on the Central Coast of California, and the markets for Nationals and type notes are equally hot! This update features a wide variety of exciting National Bank Notes, and a few interesting large and small size type notes as well. Nationals include: A very scarce and nicely-named (but unfortunately damaged) 1902 $5 from Walnut Ridge, AR; a rare 1902 issue from Covina, CA; a pleasing 1902 Santa Barbara, CA note; a rarely-encountered 1929 Scotia, CA note; an elusive 1902 Tustin, CA issue; a higher-grade trio of New London, CT notes from three different banks; an extraordinary serial number 1 1929 Moscow, ID note; a 1929 issue from The Oil Belt National Bank of Oblong, IL; a very tough 1902 Rockwell, IA note; a Gem CU serial number 1 1929 Toledo, IA example; a very scarce Logan, KS 1902 issue; an elusive and highly desirable Annapolis, MD 1902 note, the first I've ever owned; a lower grade but scarce Brown Back from the Union National Bank of Kansas City, MO; an attractive and very scarce 1902 note from the Westside National Bank of West Paterson, NJ; a tough and nice-looking 1902 Date Back from The Citizens National Bank of Roswell, NM; and too many other neat Nationals to highlight here.
Please stop by my table if you're going to the Long Beach Show in September -- I'm adding new items to inventory every day and will have many new notes available at Long Beach!
---- Bill
Please feel free to make an offer on any item, or suggest a payment plan. If you want a note, I'll do my best to make it happen.
I'm continuing to add notes to inventory, so please send your want list or check with me if you don't see what you're looking for. I am always interested in buying National Currency! Please contact me if you have National Bank Notes for sale. I'm also an active buyer of large size type.
If a note's entire description is in BOLD, just click anywhere to see a scan of the face. "FACE" and "BACK" notations are, of course, self explanatory. Unfortunately, I do not always have time to scan every note listed on the site. I gladly will e-mail additional scans of any note upon request.
Last Updated: August 15, 2023
William Litt
P.O. Box 221148
Carmel, CA 93922
650-430-2024
BillLitt@aol.com