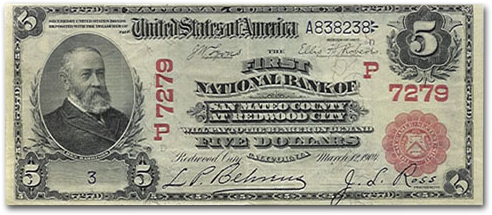 SPRING UPDATE
A FEW WORDS ABOUT COVID-19 AND THE CORONAVIRUS
For some of you, numismatics is the last thing on your mind. For others, collecting currency provides a welcome distraction. COVID-19, the disease transmitted by the coronavirus, has changed everyday life as we know it. Because of the extraordinary efforts of the medical and scientific communities, however, I'm confident this will only be temporary. Although Californians are under some of the strictest "shelter-in-place" orders in the country, we appear to have been largely successful in "flattening the curve" so far. Monterey County, where I live, has an even "flatter" curve than many other California counties.
I hope you enjoy this update, and find a note or two of interest. To date, I have been able to ship orders in a timely fashion despite the shelter-in-place orders. If this changes, I will let you know promptly. Thank you for your understanding during this unprecedented situation.
I wish you and your family good health and a positive attitude! Be well, and be safe.
---- Bill
HIGHLIGHTS OF THIS UPDATE include a well-worn but highly desirable 1902 Anaheim, California note; another Orange County prize, the finest known note from Olive, California; a nice 1902 Date Back from Harrodsburg, KY; a 1929 Crowley, Louisiana note and a well-circulated but decent 1882 Date Back from New Orleans; a gorgeous AU-Uncirculated 1929 example from Blue Earth, Minnesota; a lower grade 1902 note from Herman, Minnesota, a "first name" town from which I've never owned a note before; a 1929 example from the interestingly-named Inter-State N.B. of Kansas City, Missouri, a very elusive bank for small size notes; a nice PMG graded 1929 Whitefish, Montana note; a 1929 note from Linden, New Jersey; a decent First Charter Ace from New York; a high grade 1902 example from the Bronx National Bank of the City of New York; a $5 Brown Back from Lima, Ohio; a high grade 1929 $5 from Medford, Oregon; $50 and $100 Type II examples from Erie, Pennsylvania; a scarce 1929 issue from Fayetteville, Tennessee; a large size example from Brenham, Texas; small size notes from Abingdon and Emporia, Virginia; and a high grade 1929 Bellingham, WA note.
I also offer a small but interesting group of reasonably-priced large size type notes, including a couple of fancy serial number 1923 Silver Certificates.
Please feel free to make an offer on any item, or suggest a payment plan. If you want a note, I'll do my best to make it happen.
I'm continuing to add notes to inventory, so please send your want list or check with me if you don't see what you're looking for. I am always interested in buying National Currency! Please contact me if you have National Bank Notes for sale. I'm also an active buyer of large size type.
If a note's entire description is in BOLD, just click anywhere to see a scan of the face. "FACE" and "BACK" notations are, of course, self explanatory. Unfortunately, I do not always have time to scan every note listed on the site. I gladly will e-mail additional scans of any note upon request.
Last Updated: MARCH 22, 2020 (Message updated April 25, 2020)
William Litt
P.O. Box 221148
Carmel, CA 93922
650-430-2024
BillLitt@aol.com