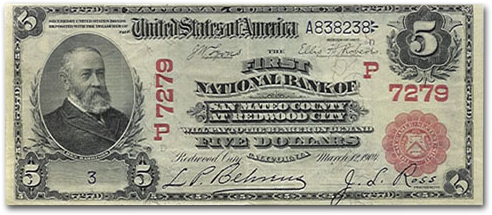 SPRING

UPDATE
Welcome to my long-overdue spring update! As those of you who know me are aware, I have a full-time job in addition to dealing in old currency, and it has kept me very busy lately. This update features a broad selection of new National Bank Notes from around the country, including: an elusive 1902 Red Seal from San Francisco; the first Type II note of any denomination to surface from The Fairfield NB in Fairfield, IL; 1882 Value Back and 1902 examples from Denton, MD; a nice 1902 issue from Snow Hill, MD; the best reported Type II $10 from Ann Arbor, MI; a rare but badly damaged Greenwood, MS 1902 Red Seal; a high grade 1902DB from the German National Bank of Hastings, NE; an elusive and popular 1929 $5 from Asheville, NC; a nice, mid-grade $5 1902PB from The Producers N.B. of Woonsocket, RI; and a higher grade 1902 example from The Dexter Horton National Bank of Seattle.
Please stop by my table (1609) if you're going to the Central States Show. I'm adding new notes to inventory every day and will have many new items for sale at the show!
---- Bill
Please feel free to make an offer on any item, or suggest a payment plan. If you want a note, I'll do my best to make it happen.
I'm continuing to add notes to inventory, so please send your want list or check with me if you don't see what you're looking for. I am always interested in buying National Currency! Please contact me if you have National Bank Notes for sale. I'm also an active buyer of large size type.
If a note's entire description is in BOLD, just click anywhere to see a scan of the face. "FACE" and "BACK" notations are, of course, self explanatory. Unfortunately, I do not always have time to scan every note listed on the site. I gladly will e-mail additional scans of any note upon request.
Last Updated: April 19, 2022
William Litt
P.O. Box 221148
Carmel, CA 93922
650-430-2024
BillLitt@aol.com