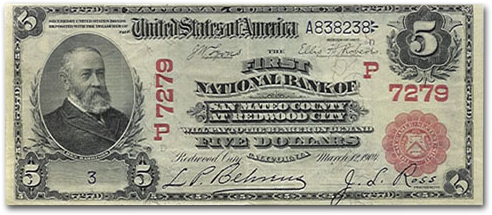 EARLY

SPRING

UPDATE
Welcome to my late-winter, early-spring website update. I'm feeling optimistic, not only because spring is in the air in Central California and I have some good notes to offer, but also because COVID-19 case rates, hospitalizations, and deaths are dropping as we begin the long road to herd immunity through vaccination.
Now on to the notes! I'm pleased to offer a wide variety of new National Bank Notes, including: scarce 1929 California notes from Hollister and the late-chartered Santa Ana bank; a great 1902 note from Mancos, Colorado; a tough 1902 New Britain, Connecticut example; a pair of Choice CU 1929 Oakland, Maryland notes; a lovely Value Back from Ishpeming, Michigan; small size examples from Lake Crystal and Mountain Lake, Minnesota; a tough 1902 note from Raton, New Mexico; a rare 1929 issue from Cold Spring, New York; 1929 Long Island notes from Farmingdale and Hicksville; a rare Port Chester, New York, Original Series $1; a nice, mid-grade 1902 $20 from Brookings, South Dakota; a higher grade Kingsville, Texas Type II $5; and a really elusive 1902 note from the Union National Bank of Seattle.
I was honored to have been appointed a Governor of the Society of Paper Money Collectors (SPMC) last year, and look forward to serving the membership to the best of my ability.
I wish you and your family good health and a positive attitude! Be well, and be safe.
---- Bill
Please feel free to make an offer on any item, or suggest a payment plan. If you want a note, I'll do my best to make it happen.
I'm continuing to add notes to inventory, so please send your want list or check with me if you don't see what you're looking for. I am always interested in buying National Currency! Please contact me if you have National Bank Notes for sale. I'm also an active buyer of large size type.
If a note's entire description is in BOLD, just click anywhere to see a scan of the face. "FACE" and "BACK" notations are, of course, self explanatory. Unfortunately, I do not always have time to scan every note listed on the site. I gladly will e-mail additional scans of any note upon request.
Last Updated: March 8, 2021
William Litt
P.O. Box 221148
Carmel, CA 93922
650-430-2024
BillLitt@aol.com