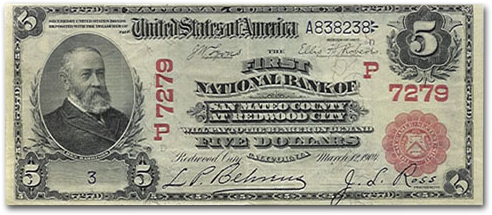 LATE SUMMER UPDATE
Summer Sale: Buy Two -- Or More -- Notes, Take 15% Off !!!
For this update, I've added an attractive 1902 Phoenix, Arizona $10; scarce small size examples from Grass Valley and Suisun City, California; a tough 1929 Honolulu denomination-title-type variety; a rare 1902 Carterville, Illinois note; a Mayfield, Kentucky Red Seal; an elusive 1902 Transportation Brotherhoods note from Minneapolis; several interesting New Jersey notes including 1902 examples from Cranbury and Town of Union, a Red Seal from Guttenberg, and a 1929 example from Keansburg; a nice small size size Ada, Oklahoma note; scarce Texas examples from Daingerfield and Garland; and a 1929 Ritzville, Washington note.
Not much in stock in large size type, and I was cleaned out of small size at the Kansas City IPMS, but check the "Other" page for deals on high grade 1864 Confederate notes. I'm inventorying and pricing lots of other Nationals for the Long Beach Show, September 6-8, so please call or e-mail me if you don't see what you're looking for, or stop by my table in Long Beach!
*** I'm having problems uploading some scans -- Please e-mail me and I'll be happy to send them to you ***
Please feel free to make an offer on any item, or suggest a payment plan. If you want a note, I'll do my best to make it happen.
Please send your want list or check with me if you don't see what you're looking for. I am always interested in buying National Currency! Please contact me if you have National Bank Notes for sale. I'm also an active buyer of large size type.
SEE ME AT TABLE 450 IN LONG BEACH, SEPTEMBER 6-8 !!!
If a note's entire description is in BOLD, just click anywhere to see a scan of the face. "FACE" and "BACK" notations are, of course, self explanatory. Unfortunately, I do not always have time to scan every note listed on the site. I gladly will e-mail additional scans of any note upon request.
Last Updated: August 27, 2018
William Litt
P.O. Box 221148
Carmel, CA 93922
650-430-2024
BillLitt@aol.com