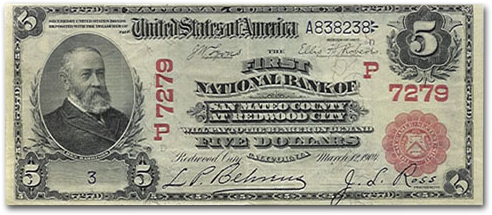 SEPTEMBER UPDATE
Welcome to my latest website update. There are some really interesting notes offered, in all price ranges, including rarities and some real bargains. I hope you find a note or two of interest.
I'm honored to have been appointed a Governor of the Society of Paper Money Collectors (SPMC) this spring, and look forward to serving the membership to the best of my ability.
I wish you and your family good health and a positive attitude! Be well, and be safe.
---- Bill
HIGHLIGHTS OF THIS UPDATE include a scarce 1929 National from El Monte, California; a gorgeous $20 1882 Date Back from Rockland, Maine; a high grade 1929 example from Oakland, Maryland; an attractive and original 1902 $5 from the Marquette National Bank of Minneapolis; a 1929 example from Woodstown, NJ; a nice and elusive "B Suffix" note from the Chase National Bank; a beauiful, high grade 1902 $10 from Harrisburg, Pennsylvania; a really rare 1929 issue from Parnassus, Pennsylvania; an equally elusive, if cheaper, 1929 Susquehanna, Pennsylvania note, a bank from which no small size note has been offered at auction since 2011; a serial number 3 Brown Back from Merrill, Wisconsin; a tough $10 1928B San Francisco FRN Star Note; and a PMG EF 40 F-278 Chief.
Please feel free to make an offer on any item, or suggest a payment plan. If you want a note, I'll do my best to make it happen.
I'm continuing to add notes to inventory, so please send your want list or check with me if you don't see what you're looking for. I am always interested in buying National Currency! Please contact me if you have National Bank Notes for sale. I'm also an active buyer of large size type.
If a note's entire description is in BOLD, just click anywhere to see a scan of the face. "FACE" and "BACK" notations are, of course, self explanatory. Unfortunately, I do not always have time to scan every note listed on the site. I gladly will e-mail additional scans of any note upon request.
Last Updated: September 13, 2020
William Litt
P.O. Box 221148
Carmel, CA 93922
650-430-2024
BillLitt@aol.com