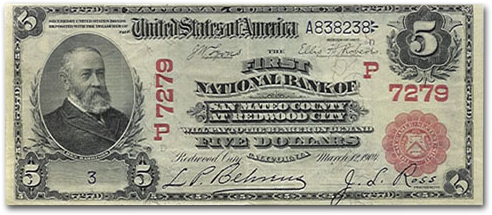 WINTER UPDATE
This update features a rare 1902 Walnut Ridge, Arkansas note; a large size Beverly Hills example; a group of Los Angeles notes including Red Seals and scarcer banks; a very elusive Mountain View, California 1929 specimen; a beautiful Choice CU Milford, Delaware Plain Back; 1882 Brown Backs from two banks in Portland, Maine; a nice 1902 Baldwin, New York, note; a $10 1882 Value Back from Elmira, New York; a genuinely rare large size example from Lyons Falls, New York; a high grade Type II $20 from Guthrie, Oklahoma; two large size examples from New Albany, Pennsylvania; and small size notes from both of the issuing Colfax, Washington banks. There are also a handful of new large size type notes and a $1 1928A Silver Certificate with snazzy radar serial number M84444448A.
I'm inventorying and pricing lots of other Nationals for the FUN Show in Orlando, January 9-12, but I won't have a table. Please call or e-mail me if you don't see what you're looking for, or we can get together in Orlando if you'll be at FUN!
Please feel free to make an offer on any item, or suggest a payment plan. If you want a note, I'll do my best to make it happen.
Please send your want list or check with me if you don't see what you're looking for. I am always interested in buying National Currency! Please contact me if you have National Bank Notes for sale. I'm also an active buyer of large size type.
If a note's entire description is in BOLD, just click anywhere to see a scan of the face. "FACE" and "BACK" notations are, of course, self explanatory. Unfortunately, I do not always have time to scan every note listed on the site. I gladly will e-mail additional scans of any note upon request.
Last Updated: December 26, 2018
William Litt
P.O. Box 221148
Carmel, CA 93922
650-430-2024
BillLitt@aol.com