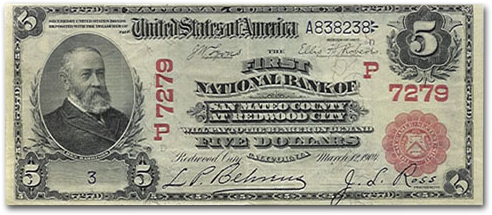 SPRING UPDATE
This update features a selection of National Bank Notes from around the country, including a number of neat items. Highlights include a higher grade 1902 $50 from Oakland, California to go with the $100 I've previously listed, an elusive 1929 Watsonville, California note, a well-used but truly rare large size note from Palisades, Colorado, a rare 1902 issue from Wakefield, Michigan, a scarce and interestingly-named 1929 Type II Whitefish, Montana example, two really tough Second Charter notes from the Manhattan suburbs, a $5 Value Back from Suffern, New York and a $10 Brown Back from Walden, New York, and a scarce large size Hominy, Oklahoma note.
The large size type inventory is thin at the moment, but check the "Other" page for deals on high grade 1864 Confederate notes. I have many Nationals and a handful of type notes I'm inventorying and pricing for the IPMS in Kansas City June 7-10, so please call or e-mail if you don't see what you're looking for, or stop by my table in Kansas City!
HOPE TO SEE YOU AT THE IPMS IN KANSAS CITY, JUNE 7-10 !!!
Please feel free to make an offer on any item, or suggest a payment plan. If you want a note, I'll do my best to make it happen.
Please send your want list or check with me if you don't see what you're looking for. I am always interested in buying National Currency! Please contact me if you have National Bank Notes for sale. I'm also an active buyer of large size type.
If a note's entire description is in BOLD, just click anywhere to see a scan of the face. "FACE" and "BACK" notations are, of course, self explanatory. Unfortunately, I do not always have time to scan every note listed on the site. I gladly will e-mail additional scans of any note upon request.
Last Updated: May 13, 2018
William Litt
P.O. Box 221148
Carmel, CA 93922
650-430-2024
BillLitt@aol.com