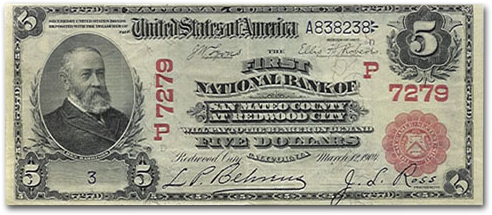 SUMMER UPDATE
Welcome to my latest website update. There are some really interesting notes offered, in all price ranges, including rarities and some real bargains. I hope you find a note or two of interest.
So far COVID-19-related restrictions haven't interfered with my ability to ship orders promptly. I, like many of you, find numismatics to be a great distraction from the coronavirus pandemic. Also like many of you, my interest in numismatics goes hand-in-hand with a fascination with history. There is a tremendous amount of unrest in America these days, much of it fully justified by our nation's history of oppression and exploitation of people of color and the long shadows that history casts on many of our institutions. If your understanding of American history doesn't lead you inexorably to the same conclusion, I respectfully encourage you to broaden your sources of information.
I'm honored to have been appointed a Governor of the Society of Paper Money Collectors (SPMC) this spring, and look forward to serving the membership to the best of my ability.
I wish you and your family good health and a positive attitude! Be well, and be safe.
---- Bill
HIGHLIGHTS OF THIS UPDATE include a rare and nicely-named 1929 Sweetwater, Alabama National; a 1929 Anaheim, California note with the tougher first title; a very elusive Red Seal from Washington, DC; an attractive, pen-signed Date Back from Center Point, Indiana; a Type II $50 from Indianapolis; a high grade 1902 example from Barre, Massachusetts; a lower grade but very tough 1902 Hackettstown, New Jersey note; a scarce 1929 Type II Caledonia, New York, example; a 1902 Ossining, New York note; a rare large size Philmont, New York issue; a very scarce 1902 Carey, Ohio note; an elusive three-word-town 1929 example from Blue Ridge Summit, Pennsylvania; a beautiful $10 1882 Date Back from Beaumont, Texas; an unusual and scarce large size Christiansburg, Virginia note; a rare small size Charter #12240 Emporia, Virginia note; and a Very Choice New 64 PPQ 1929 Everett, Washington example.
I also offer some interesting large and small size type notes, highlighted by a PMG Superb Gem Uncirculated 67 EPQ $1 North Africa note.
Please feel free to make an offer on any item, or suggest a payment plan. If you want a note, I'll do my best to make it happen.
I'm continuing to add notes to inventory, so please send your want list or check with me if you don't see what you're looking for. I am always interested in buying National Currency! Please contact me if you have National Bank Notes for sale. I'm also an active buyer of large size type.
If a note's entire description is in BOLD, just click anywhere to see a scan of the face. "FACE" and "BACK" notations are, of course, self explanatory. Unfortunately, I do not always have time to scan every note listed on the site. I gladly will e-mail additional scans of any note upon request.
Last Updated: July 4, 2020
William Litt
P.O. Box 221148
Carmel, CA 93922
650-430-2024
BillLitt@aol.com