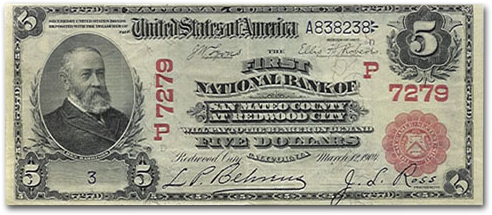 WINTER UPDATE
Welcome to my Winter website update. We finally are seeing a rollout of the COVID-19 vaccines -- truly a miracle of medicine and science that they were developed so quickly! Although it will be months before most Americans are vaccinated, this development signals the beginning of a gradual return to normal. For those of us in states like California that have implemented strict social distancing orders, this means that, for the first time since March, "normal" will include extended family gatherings, fans at sporting events, and coin shows!
I'm pleased to offer a wide variety of new National Bank Notes, including: a scarce 1929 Type II $20 from San Diego; the only known 1929 Type II $20 from Newnan, GA; a genuinely rare 1902 example from Saint Anthony, Idaho; a tough 1929 example from Morrisonville, Illinois; 1902 notes from Abilene and Burlingame, Kansas; a Red Seal from Kansas City, Kansas; a highly desirable 1929 issue from Ipswich, Massachussetts; a nice AU $5 1929 Ann Arbor, Michagan; a nice $5 from the rare Hibbing, Minnesota Charter, #12568; a high grade 1902 example from Cooperstown, New York; A presentable Red Seal from the Western National Bank of Philadelphia; a rare 1929 note from the Grange National Bank of Tioga, Pennsylvania; an attractive $10 1882DB from Parkersburg, West Virginia; and a nice 1902 Date Back from Grand Rapids, Wisconsin.
The update also includes a small but diverse array of Large Size Type Notes, including decent mid-grade 1886 and 1896 $2 Silver Certificates and a pleasing VF-EF 1899 Chief. In small size, highlights include an AU 1934A $500 and a PCGS Gem New 66 PPQ Hawaii $1 featuring serial number C00000286C.
I was honored to have been appointed a Governor of the Society of Paper Money Collectors (SPMC) in 2020, and look forward to serving the membership to the best of my ability.
I wish you and your family good health and a positive attitude! Be well, and be safe.
---- Bill
Please feel free to make an offer on any item, or suggest a payment plan. If you want a note, I'll do my best to make it happen.
I'm continuing to add notes to inventory, so please send your want list or check with me if you don't see what you're looking for. I am always interested in buying National Currency! Please contact me if you have National Bank Notes for sale. I'm also an active buyer of large size type.
If a note's entire description is in BOLD, just click anywhere to see a scan of the face. "FACE" and "BACK" notations are, of course, self explanatory. Unfortunately, I do not always have time to scan every note listed on the site. I gladly will e-mail additional scans of any note upon request.
Last Updated: December 29, 2020
William Litt
P.O. Box 221148
Carmel, CA 93922
650-430-2024
BillLitt@aol.com