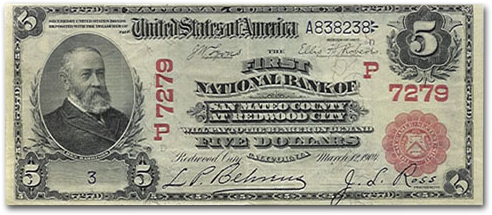 LATE SUMMER -

EARLY FALL

UPDATE
Those of you who know me know that I am an attorney. My apologies for the delay in updating the website, but I just finished a jury trial in U.S. District Court, which entails months of preparation. This update should be worth waiting for, featuring a wide array of new and exciting National Bank Notes from coast to coast, including: an attractive 1902 example from Colton, CA; a rare 1882 Date Back from Hanford, CA; a heavily circulated but rare 1902DB from Modesto, CA; the first $10 1882DB to surface from Whittier, CA; a decent and affordable 1929 Ty. II $5 from Honolulu; an elusive 1902 Driggs, ID note; a scarce and higher grade 1929 example from Vienna, IL; the finest known note from the rare Ch. #10980 Marion, KS bank; a nice 1929 example from Houlton, ME; a nice Uncirculated 1929 Provincetown, MA note; a tough 1902 note from the Pioneer National Bank of Duluth, MN; a very elusive 1929 example from Reserve, MT; a nice 1929 example from Atlantic Highlands, NJ; a couple of examples of the "B suffix" 1929 note, issued only by the Chase National Bank of New York; a scarce 1929 note from the Ozone Park National Bank of New York; a nice Wilmington, OH Red Seal; a very scarce 1929 issue from the National Security Bank and Trust Company of Philadelephia; a PMG graded Choice Uncirculated 63 EPQ 1902 Date Back from Providence, RI; an elusive 1929 issue from Camden, SC; a rare 1882 Brown Back from Columbia, SC; a tough 1902 note from Springfield, SC; a rare 1902 issue from Lemmon, SD; a nice 1929 Kingsport, TN note; a rare 1929 Falls City, TX note; and a 1929 example from Fredericksburg, VA. I also offer a Gem CU serial number 100 1899 $1 Silver Certificate and a Gem four-digit serial number Hawaii $1 for good measure.
Please stop by my table, 532, if you're going to the fall Long Beach Expo. I'm adding new notes to inventory every day and will have many new items for sale at the show!
---- Bill
Please feel free to make an offer on any item, or suggest a payment plan. If you want a note, I'll do my best to make it happen.
I'm continuing to add notes to inventory, so please send your want list or check with me if you don't see what you're looking for. I am always interested in buying National Currency! Please contact me if you have National Bank Notes for sale. I'm also an active buyer of large size type.
If a note's entire description is in BOLD, just click anywhere to see a scan of the face. "FACE" and "BACK" notations are, of course, self explanatory. Unfortunately, I do not always have time to scan every note listed on the site. I gladly will e-mail additional scans of any note upon request.
Last Updated: September 7, 2022
William Litt
P.O. Box 221148
Carmel, CA 93922
650-430-2024
BillLitt@aol.com