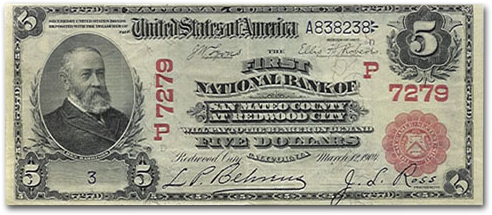 FALL UPDATE
Welcome to my Fall 2020 website update. This update features an array of new National Bank Notes, including several rare notes previously unknown to collectors. Highlights include: a nice 1929 Ontario, CA note; an elusive 1902 Santa Cruz, CA example; a lower grade but rare 1902 issue from Raymond, Illinois; a beautiful, high grade, 1902 Rock Island, Illinois note; the first 1902 Red Seal to surface from the Fifth National Bank of Grand Rapids, Michigan; a well-circulated but very elusive 1929 issue from Wyandotte, Michigan; A gorgeous PMG AU 55 Saint Paul, Nebraska Brown Back; 1929 examples from Port Jefferson and Saranac Lake, New York; a rare $10 1929 from Ryder, North Dakota; and a rare 1902 Port Neches, TX note.
The update also includes a better-than-usual assortment of Large Size Type Notes and Small Size Notes, including a high grade Martha Washington $1, a nice 1928E $1 Silver Certificate, and a low serial number Hawaii $1 in Gem CU 66! I hope you find a note or two of interest.
I'm honored to have been appointed a Governor of the Society of Paper Money Collectors (SPMC) this spring, and look forward to serving the membership to the best of my ability.
I wish you and your family good health and a positive attitude! Be well, and be safe.
---- Bill
Please feel free to make an offer on any item, or suggest a payment plan. If you want a note, I'll do my best to make it happen.
I'm continuing to add notes to inventory, so please send your want list or check with me if you don't see what you're looking for. I am always interested in buying National Currency! Please contact me if you have National Bank Notes for sale. I'm also an active buyer of large size type.
If a note's entire description is in BOLD, just click anywhere to see a scan of the face. "FACE" and "BACK" notations are, of course, self explanatory. Unfortunately, I do not always have time to scan every note listed on the site. I gladly will e-mail additional scans of any note upon request.
Last Updated: November 11, 2020 (Nationals only -- Large and Small Size Type within the next day or two!)
William Litt
P.O. Box 221148
Carmel, CA 93922
650-430-2024
BillLitt@aol.com