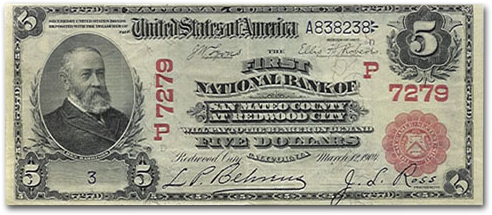 WINTER UPDATE
Welcome to my Winter Update. New offerings this time include rare and exciting National Bank Notes from around the country, including: an attractive 1902 $20 from Yuma, AZ; a rare 1902 note from Delano, CA; an elusive 1929 example from El Monte, CA; a rare and great looking $20 1882 Brown Back from Colorado Springs, CO; an attractive small size issue from Miami, FL; a high grade 1902 Date Back from Newport, NH; a tough 1929 Keansburg, NJ note; a rare 1929 issue from Lisbon, NY; the first Type II $10 to surface from Dayton, PA; a very rare 1902 Herminie, PA issue; another very scarce 1902 Pennsylvania issue, this one from the Citizens National Bank of Newport; a 1929 $20 from The Grange National Bank of Tioga, PA, among the rarest Grange banks; a tough 1929 Ty.II Christiansburg, VA; a high grade and very elusive 1929 note from the Washington National Bank of Vancouver; 1929 examples from two different Elkins, WV banks; and a rare 1929 Philippi, WV issue; for good measure, I also offer an attractive $50 1929 Kansas City FRBN Star note! The large size type note section is pretty depleted, but I expect to have additional type offerings at the FUN Show.
Please stop by Robert Calderman's table if you're going to the FUN Show in January -- I'll have a case of my notes on display and many more notes available. I'm adding new items to inventory every day and will have many new offerings at FUN!
---- Bill
Please feel free to make an offer on any item, or suggest a payment plan. If you want a note, I'll do my best to make it happen.
I'm continuing to add notes to inventory, so please send your want list or check with me if you don't see what you're looking for. I am always interested in buying National Currency! Please contact me if you have National Bank Notes for sale. I'm also an active buyer of large size type.
If a note's entire description is in BOLD, just click anywhere to see a scan of the face. "FACE" and "BACK" notations are, of course, self explanatory. Unfortunately, I do not always have time to scan every note listed on the site. I gladly will e-mail additional scans of any note upon request.
Last Updated: December 28, 2022
William Litt
P.O. Box 221148
Carmel, CA 93922
650-430-2024
BillLitt@aol.com