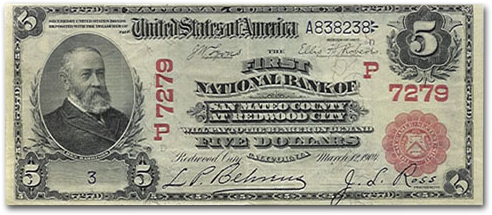 LATE

SPRING

UPDATE
Welcome to my late spring website update. California, like most of the rest of the country, is beginning to return to "normal" as people get vaccinated and the COVID-19 pandemic ebbs. I hope that by the time I write my next website introduction, in a couple of months, COVID won't even be a major theme.
Now for the notes! I'm happy to offer many new National Bank Notes from around the country, including: a scarce 1929 Type II from Azusa, CA; a tough $50 Date Back from the National Bank of D.O. Mills & Co., Sacramento; a Brown Back from Willimantic, CT; a Washington, DC Brown Back; A very scarce Original Series Ace from Dixon, IL; an elusive and in-demand 1929 example from Neoga, IL; a scarce and attractive Type II $20 from Jackson, MS; large and small size examples from Ely, NV; a rare 1902 issue from the Essex National Bank of Montclair, NJ; a deceptively rare Passaic, NJ note from Charter #3572; a rare, high grade, small size note from the Lebanon National Bank of New York, NY; a 1929 example from Valley Stream, NY; a high grade small size note from North East, PA; a very attractive Second Charter note from the Centennial National Bank of Philadelphia; and a group of Virginia Nationals, many but not all from Lyn Knight's September 2020 auction, featuring notes from Bassett, Chase City, Chatham, Gate City, Lexington, New Castle, Richlands, Waynesboro, and Wytheville.
I was honored to have been appointed a Governor of the Society of Paper Money Collectors (SPMC) last year, and look forward to serving the membership to the best of my ability.
I wish you and your family good health, happiness, and a quick return to the things you love doing! Be well, and be safe.
---- Bill
Please feel free to make an offer on any item, or suggest a payment plan. If you want a note, I'll do my best to make it happen.
I'm continuing to add notes to inventory, so please send your want list or check with me if you don't see what you're looking for. I am always interested in buying National Currency! Please contact me if you have National Bank Notes for sale. I'm also an active buyer of large size type.
If a note's entire description is in BOLD, just click anywhere to see a scan of the face. "FACE" and "BACK" notations are, of course, self explanatory. Unfortunately, I do not always have time to scan every note listed on the site. I gladly will e-mail additional scans of any note upon request.
Last Updated: May 26, 2021
William Litt
P.O. Box 221148
Carmel, CA 93922
650-430-2024
BillLitt@aol.com