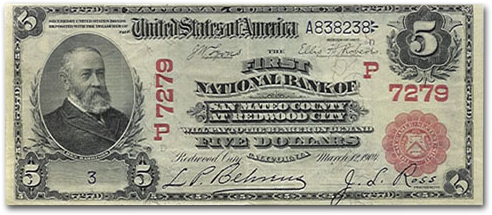 SPRING UPDATE
Welcome to the Spring Update! This website update features a wide variety of exciting National Bank Notes and more large and small size type notes than usual. Nationals include: A tough 1902 $20 from Fresno, CA; higher grade 1902 and 1929 issues from Ocala, FL, including the only known $10 Type II; a $5 Brown Back from Columbus, GA; a nice VF large size Honolulu, HI note and two Type II Honolulu fives, each featuring a different bank title; a Lazy Deuce from Alton, IL; a scarce 1902 issue from Howard, KS; a damaged but very scarce 1929 example from Ipswich, MA; a nice VF 1902 $5 from The Third National Bank of Pitssfield, MA; a nicely named 1929 Blooming Prairie, MN note; a rare 1902 Deer Creek, MN example; a tough New Hampshire 1929 $50. from the state capital, Concord; a nice 1902 example from Albuquerque, NM; a rare small size note from Fultonville, NY; a rare 1902 La Moure, ND note; a beautiful PMG Choice AU 58 EPQ 1902 issue from the Brotherhood of Locomotive Engineers Co-Operative National Bank of Cleveland; a Gem CU 65 EPQ 1929 Marlow, OK note; a rare small size note from the City National Bank in Norman, OK; a scarce and nicely-named 1902 Date Back from Pleasant Unity, PA; A nice AU $10 1902 from Uniontown, PA; a higher grade 1902 $20 from Groton, SD; a nearly Uncirculated 1929 example from Abilene, TX; a $50 1902 Date Back from Taylor, TX; a scarce 1929 Martinsville, VA note; and a rare 1902 issue from Crandon, WI. The Large Size Type selection features a couple of gorgeous high grade Educational $1 Silver Certificates and an affordable $5 1923 Porthole Note. Small Size notes include a $1 1928E Silver Certificate, a solid-7 serial number 1988A $1, a nice San Francisco 1934A $500, and an array of other new offerings.
Please stop by my table if you're going to the Central States Show in April -- I'm adding new items to inventory every day and will have many new notes available at Central States!
---- Bill
Please feel free to make an offer on any item, or suggest a payment plan. If you want a note, I'll do my best to make it happen.
I'm continuing to add notes to inventory, so please send your want list or check with me if you don't see what you're looking for. I am always interested in buying National Currency! Please contact me if you have National Bank Notes for sale. I'm also an active buyer of large size type.
If a note's entire description is in BOLD, just click anywhere to see a scan of the face. "FACE" and "BACK" notations are, of course, self explanatory. Unfortunately, I do not always have time to scan every note listed on the site. I gladly will e-mail additional scans of any note upon request.
Last Updated: April 7, 2023
William Litt
P.O. Box 221148
Carmel, CA 93922
650-430-2024
BillLitt@aol.com