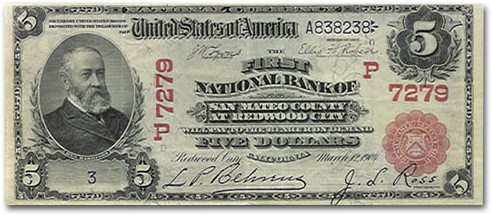 Welcome to my latest website update! The currency market remains active, and I'm looking forward to attending CPMX in early March. Although many dealers will be attending the ANA Money Show in Portland instead, I'm looking forward to a good buying show because of the diminished competition.
This update features a varied and interesting group of National Bank Notes from around the country, as well as a nice mid-grade Educational Deuce. Two of my favorite Nationals listed are a well used Lazy Deuce from Alton, Illinois -- because of the stories it could tell if it could only talk --and the first 1902 Date Back to surface from Prairie City, Oregon: if it's a rare Western note with a neat name, count me in! I also have a terrific, evenly circulated PCGS VF 25 $5 Plain Back from Honolulu, a hard note to find with good centering and no problems.
Please note: I've marked down quite a few prices, so if you had your eye on a note, it may be a bit cheaper now.
Please send your want list or check with me if you don't see the note or notes for which you're looking. I am always interested in buying National Currency! Please contact me if you have National Bank Notes for sale. I'm also an active buyer of large size type.
Unfortunately, I do not have time to scan every note listed on the site. As always, I gladly will e-mail scans of any note upon request.
Last Updated: February 18, 2015
William Litt
P.O. Box 221148
Carmel, CA 93922
650-430-2024
BillLitt@aol.com