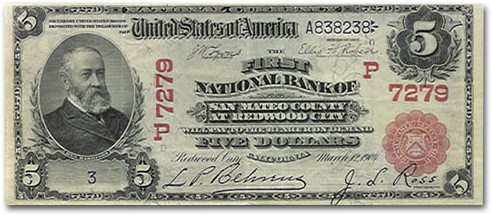 Many New Purchases!
Happy New Year! Welcome to my last website update of 2015. This listing features quite a few new notes, obtained from a variety of sources around the country. There are a number of large size type notes, including a $10 Bison that strikes a nice balance between appearance and affordability. Among the newly acquired Nationals are a number of New York City notes, 1929 examples from Cloverdale, California, Kiester, Minnesota, Albuquerque, New Mexico, and Port Washington, Wisconsin, plus a Value Back from Rural Valley, Pennsylvania.
As always, keep your eyes peeled for bargains on this site I try to price notes reasonably if I've been able to acquire them reasonably, even if that means leaving some money on the table. Just because something seems to be priced "too cheap" doesn't mean the note has hidden problems. I try to describe every note carefully, and offer a 14-day return privilege.
Please send your want list or check with me if you don't see the note or notes for which you're looking. I am always interested in buying National Currency! Please contact me if you have National Bank Notes for sale. I'm also an active buyer of large size type.
If a note's entire description is in BOLD, just click anywhere to see a scan of the face. "FACE" and "BACK" notations are, of course, self explanatory. Unfortunately, I do not have time to scan every note listed on the site. As always, I gladly will e-mail scans of any note upon request.
Last Updated: December 31, 2015
William Litt
P.O. Box 221148
Carmel, CA 93922
650-430-2024
BillLitt@aol.com