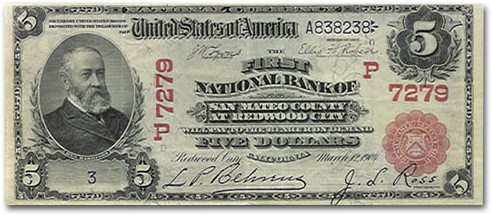 LATE SUMMER UPDATE!
As we head into fall, the currency market continues to be active. The number of incredible Nevada notes on the market -- from more than one source, no less -- boggles the minds of longtime collectors and dealers. Nevada always has been the most elusive (non-Territorial) state for Nationals, with a history reflecting the romance and legend of the Wild West! Ordinarily, having any large size note from a location other than Reno on the market is remarkable, and to me the current deluge is almost overwhelming. The surfacing of a Rhyolite note is just the icing on the cake! In another significant development, the sale of the Greensheet bodes well for the consistent, accurate, reporting of currency values, which can only help the market.
This update includes a diverse group of National Bank Notes, but it is more of a "cleanup" update because I've sold lots of notes over the past month. Nonetheless, I've added an affordable example of the elusive F-108 $10, an attractive 1929 Type II $100 from the Bank of America in San Francisco, and two rare but damaged notes: a unique Ace from Saint Peter, Minnesota, and a $5 Original Series from the Union National Bank of Chicago, just the fourth note to surface from the bank.
Keep your eyes peeled for bargains. I try to price notes reasonably if I've been able to acquire them reasonably, even if that means leaving some money on the table. Just because something seems to be priced "too cheap" doesn't mean the note has hidden problems. I try to describe every note carefully, and offer a 14-day return privilege.
Please send your want list or check with me if you don't see the note or notes for which you're looking. I am always interested in buying National Currency! Please contact me if you have National Bank Notes for sale. I'm also an active buyer of large size type.
If a note's entire description is in BOLD, just click anywhere to see a scan of the face. "FACE" and "BACK" notations are, of course, self explanatory. Unfortunately, I do not have time to scan every note listed on the site. As always, I gladly will e-mail scans of any note upon request.
Last Updated: September 7, 2015
William Litt
P.O. Box 221148
Carmel, CA 93922
650-430-2024
BillLitt@aol.com