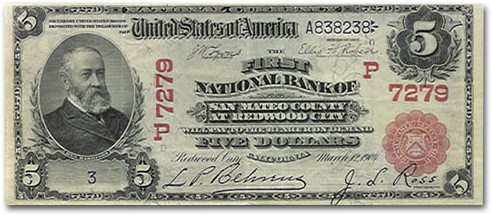 FALL UPDATE
It's been a quiet fall for me in terms of numismatics. I just wanted to post a quick update prior to the PCDA Show in Chicago (Rosemont) in November. This update is rather limited, but includes a few nice, high grade circulated Nationals from large banks that are ideal for type, and a couple of better Texas notes: a Second Charter Waco note and a series of 1929 example from Knox City. There's also the worst known example of the rare F-902b Red Seal Dallas FRN.
Although this update is a bit more sparse than usual, I am working to add a number of interesting new National Bank Notes and large size type notes to my inventory in time to bring them to the PCDA Show. Please stop by my table there to examine the recent purchases!
As always, keep your eyes peeled for bargains on this site I try to price notes reasonably if I've been able to acquire them reasonably, even if that means leaving some money on the table. Just because something seems to be priced "too cheap" doesn't mean the note has hidden problems. I try to describe every note carefully, and offer a 14-day return privilege.
Please send your want list or check with me if you don't see the note or notes for which you're looking. I am always interested in buying National Currency! Please contact me if you have National Bank Notes for sale. I'm also an active buyer of large size type.
If a note's entire description is in BOLD, just click anywhere to see a scan of the face. "FACE" and "BACK" notations are, of course, self explanatory. Unfortunately, I do not have time to scan every note listed on the site. As always, I gladly will e-mail scans of any note upon request.
Last Updated: November 1, 2015
William Litt
P.O. Box 221148
Carmel, CA 93922
650-430-2024
BillLitt@aol.com