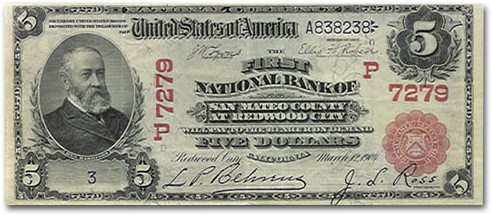 Summer Update
Wow! The Memphis International Paper Money Show was a barn-burner! As you will see, I sold a big chunk of my National Bank Note and Type Note inventory. I also acquired a few notes before, during, and after Memphis. The highlight, without question, is a previously unreported $10 1902 note from Tonopah, Nevada! The Tonopah National Bank Note is a classic Western rarity, sure to quicken the pulse of anyone who appreciates rare Nationals or Nevada history. Other highlights include an elusive and in-demand $5 1902 note from Redlands, California, the second-finest large size note from Alameda, California, and some good series of 1929 Western notes including Astoria, Oregon, Hillsboro, Oregon, and Pullman, Washington. The East Coast isn't neglected either, since the selection includes two scarcer, high grade Connecticut notes, a tough small size note from Waycross, Georgia, and the only known $10 1882DB from Sayre, Pennsylvania.
Please feel free to make an offer on any item, or suggest a payment plan. If you want a note, I'll do my best to make it happen.
Please send your want list or check with me if you don't see the note or notes for which you're looking. I am always interested in buying National Currency! Please contact me if you have National Bank Notes for sale. I'm also an active buyer of large size type.
If a note's entire description is in BOLD, just click anywhere to see a scan of the face. "FACE" and "BACK" notations are, of course, self explanatory. Unfortunately, I do not have time to scan every note listed on the site. As always, I gladly will e-mail additional scans of any note upon request.
Last Updated: July 1, 2016
William Litt
P.O. Box 221148
Carmel, CA 93922
650-430-2024
BillLitt@aol.com