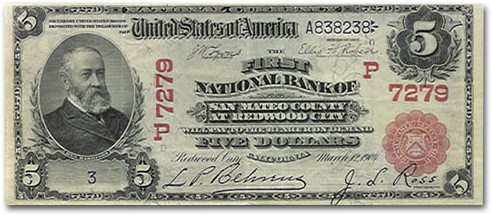 Spring Update
Welcome to my latest website update. This listing features quite a few new purchases, including notes acquired at CPMX in March. Most of my transactions at CPMX were dealer to dealer, but it was a good show for me. Some of the stallwarts in the currency business decided not to attend and, as usual, public attendance was light. However, the level of dealer-to-dealer activity indicates that the market is healthy.
This update features some elusive and interesting notes. Included are Red Seal Federal Reserve $5 and $10 notes from the better San Francisco District. Among the new National Bank Note purchases are a pair of really elusive 1902 Indiana Nationals, one from Veedersburg and the other from the fantastically-named Russiaville! Both are attractive notes with bold signatures that should make their next owner or owners happy. I also offer the only known Type II from Humboldt, Iowa, an AU 1929 Waseca, Minnesota note, an elusive Type II from Allendale, New Jersey, a beautiful Silver City, New Mexico, large size note, and a rare large size example from Richland, Pennsylvania. There are many other new acquisitions, so please look over the listings carefully.
As always, keep your eyes peeled for bargains on this site I try to price notes reasonably if I've been able to acquire them reasonably, even if that means leaving some money on the table. Just because something seems to be priced "too cheap" doesn't mean the note has hidden problems. I try to describe every note carefully, and offer a 14-day return privilege. I also tend to cut prices dramatically on notes that I feel have been in inventory too long, often to way below my cost.
Please send your want list or check with me if you don't see the note or notes for which you're looking. I am always interested in buying National Currency! Please contact me if you have National Bank Notes for sale. I'm also an active buyer of large size type.
If a note's entire description is in BOLD, just click anywhere to see a scan of the face. "FACE" and "BACK" notations are, of course, self explanatory. Unfortunately, I do not have time to scan every note listed on the site. As always, I gladly will e-mail scans of any note upon request.
Last Updated: April 17, 2016
William Litt
P.O. Box 221148
Carmel, CA 93922
650-430-2024
BillLitt@aol.com